We Are A General Recruiting Firm, Executive Search & Temporary Staffing in Banking & Finance, MedTech, Retail, and Compliance.
ACG Resources is a family-owned and operated full-service international recruitment firm. ACG provides the flexibility and personal service of a family-owned boutique firm, with the resources, experience, and reach of a large global search firm. The combined experience of the staff is over 200 years and is consistent due to minimal turnover. ACG Resources provides professional executive search and staffing services to a broad range of companies and industries regardless of the level of the position. We provide employers with personalized staffing services and solutions, as well as job seekers with support through the entire job-seeking process.
Our Services
Areas Of Expertise
Our Recruiting Process
The Search Process
Types Of Roles We Fill
Finding Employees For You
We have the ability and expertise to find candidates in all 50 states and US territories. Our global search capabilities via our International partnership enables us to provide service in 35 countries.
Executive Search- For those senior-level positions that need to be replaced or added.
Mid Level & Staff Level Recruitment- When building or replacing positions below the "C".
Level Temporary Staffing/Staff Augmentation- For situations that require unbudgeted additions to staff, increased workflow, special projects, or fill-ins for extended leave.
Interim Management- To fill in unexpected changes in Senior Management, or, to fill a gap while searching for a new hire.
Consulting- When you need outside expert advice on a variety of issues (Compliance, HR, Compensation).
Training- Sexual Harassment, Diversity, and a myriad of other topics as required.
As a professional Search and Staffing firm, Adams Consulting Group LLC is able to provide assistance for any position that may arise. With our enormous proprietary database of professionals, from C-level candidates across and down the corporate organizational chart, concentrating in, but not limited to, financial and banking recruitment services, ACG is able to support any recruitment needs necessary. This includes Executive Search, Direct Hire Recruitment, Interim Management, Temporary Staffing, and Consulting Project Support.
We can also solve your Temporary staffing needs on a short-or-long-term basis. Whether you need to fill a position that is open due to vacation coverage, family medical leave, disability, increased volume, special projects, or market uncertainty, all interim staff is fully screened and ACG maintains full and complete Fidelity, E&O, EPLI, and Liability insurance on all ACG staff, temporary staff and consultants.
Accounting

Finance

Audit

Financial Services

Human Resources

General Administration

Information Technology

Legal Staffing

Non-Profit

Office Support
Step 1
Engagement 
During this stage of the process when we are engaged, we discuss the needs of the client. This is the most important part of the process to help us understand the role, the culture, and needs. During this time, we create a job description and a plan of action.
Step 2
Search and Screen
We go out to the candidate market and utilize a variety of tools to identify and source qualified candidates. It is during this process that we screen based on the requirements and understanding in the prior stage of the process. Here is where we start to narrow down the candidates for presentation.
Step 3
Submission and Selection
 Here is when resumes are submitted to the client for review. After we have screened candidates and found the best quality and match for the role, we present a write up with the resume through our client portal. As candidates are selected, we help coordinate interviews, maintain interest, and manage the candidate process.
Step 4
Offer
Once the client selects a candidate, we help formulate a fair offer and present it to the candidate. This allows for a buffer to prevent any issues or turn downs as well as allows us to utilize our skills as a trusted advisor to the candidate.
The Fordyce Letter® enumerates key attributes of a professional recruiting organization. Basing itself on that list, ACG offers the following:
Expertise: ACG Resources is an industry leader in the employment marketplace. We strive to continually update our searching process with all new market trends.
Cast A Wider Net: A professional fisherman will always have a greater selection than a weekend angler. ACG is the marketplace day-in and day-out.
Cost: There's a misconception among employers that the cost of a hire equals the cost of the ad or posting run to attract the person hired.
Reality: Contrary to what some believe, ACG does not try to fit square pegs into round holes.
Confidentiality: ACG ensures that all searches are completed in strict professional and private conditions.
Speed: ACG taps into the talent market much faster than having to start the process from scratch.
Post-Hire Downtime: Not only is speed an essential part of ACG's job, the ability to locate a person who can immediately "hit the ground running" with a minimum of "ramp-up time" is also desirable.
Unbiased Third-Party Input: ACG's primary function is not to fill a slot, but to provide the right candidate to solve a problem. We conduct each search in a professional and candid manner with both our clients and candidates. Working with the client's HR professional and/or hiring manager.
General Management
C-Suite
Operations
Customer Service
Accounting/Audit
Finance
Compliance
Risk & Security
Sales/Marketing
Administrative
Human Resources
Legal
Product Management
Purchasing
I.T.
Facilities/Logistics
We conduct each search in a professional and candid manner with both our clients and candidates. Working with the client's HR professional and/or hiring manager as directed, we reach an understanding of the position and the requirements needed to fill the vacancy as we go about finding employees for your firm.
The first step in identifying qualified candidates is to conduct a thorough search of our proprietary database. In addition to our extensive network of connections within the industry, our researchers highlight those individuals who, based on their resumes, fit the profile, and also pinpoint professionals who are likely to identify appropriate "passive" candidates. Such candidates might not be actively seeking a move but, if approached with the "right" position, would be receptive to considering a new potential job listing.
We also make extensive use of our online capabilities by posting positions on the ACG website and on appropriate independent job boards. To ensure we reach as wide of an audience as possible, we also make use of targeted networking. This combination of "approaches" has proven to be the most successful for both organizations in filling positions.
With our extensive industry contacts, highly qualified professionals wishing to advance their careers often seek us out, but who, for a variety of reasons, are unable to actively seek other opportunities. Many of our clients have invited us to bring such "star" candidates to their attention, even when their profiles do not match the requirements of any current assignment.
One hallmark of our recruiting process is flexibility – a willingness to modify the procedures as required by the client. We recognize that as the process of interviewing candidates proceeds, the position requirements and/or profile of the appropriate candidate may change. As an extension of and partner to the client's hiring process, we respond accordingly to such modifications.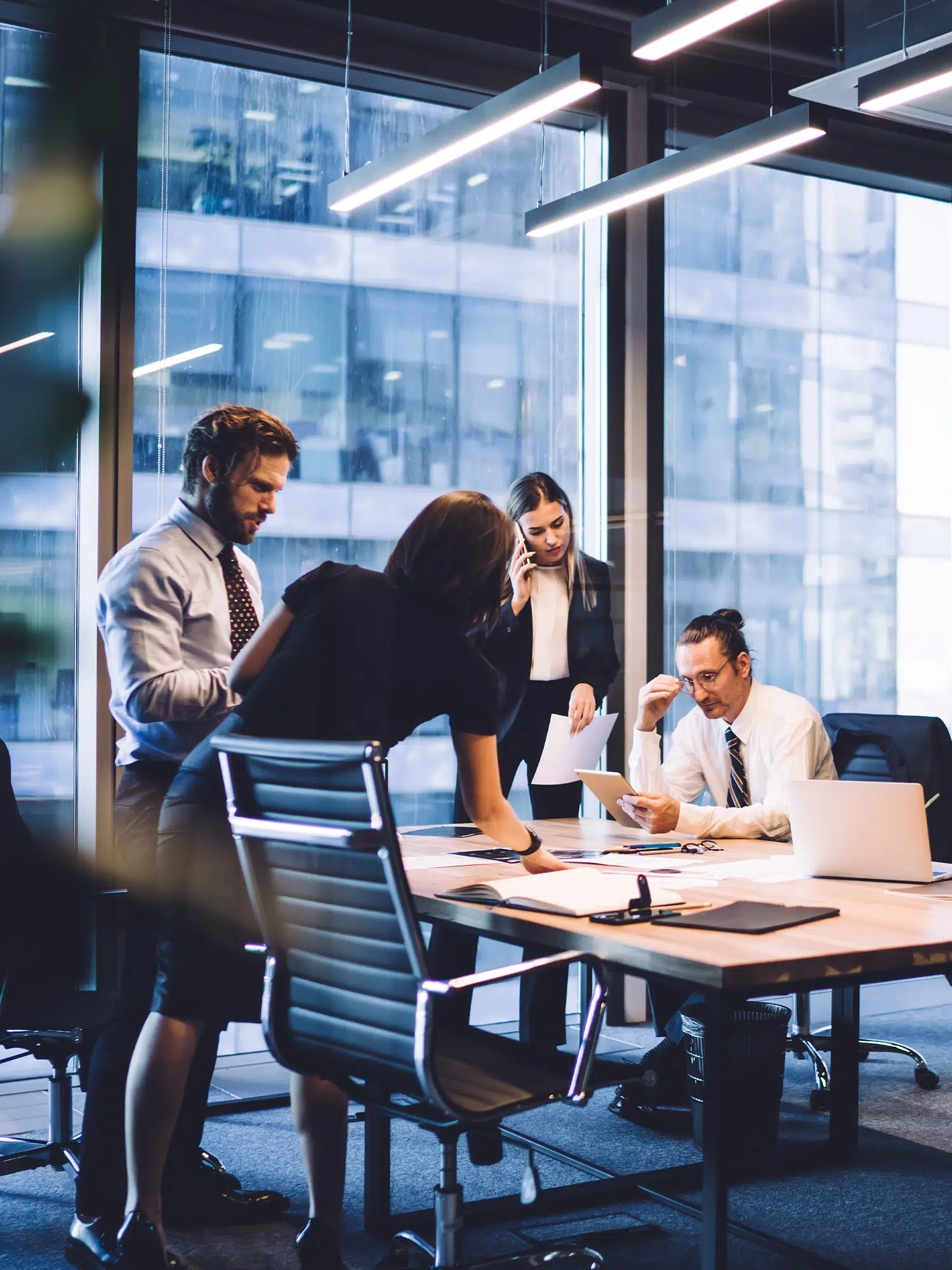 Are We The Right
Fit For You?
Why Partner With Us?
Why Use A Professional Service?
· EXPERIENCE · PERSEVERANCE · CONSISTENCY · SUCCESS ·
With a combined total of 200 years of recruitment industry experience, the ACG team has the experience, tools, processes, knowledge, and professionalism to provide a positive experience for our clients.
We do what it takes to provide a successful outcome. We don't stop until we find the right candidate that meets our client's requirements.
Our staff turnover is minimal. We have tried and true processes that our team uses consistently.
Your success is our success. We are proud of the many searches and temporary placements our team has successfully completed on behalf of our diverse client base. Successful hires lead to long term relationships. That is our goal.
In today's world, with all of the information available to us, we often hear the question, "Do I really need to engage an outside recruiter?" "We can do it ourselves!"
Our answer to that is simple... If you have the time and internal resources available to do it yourself.. Go right ahead!
Many people prepare their own meals as opposed to experiencing a fine dining experience.
Many people write their own estate plan or wills, manage their own investments, etc.
However, when using any professional service provider, generally, it is to save time and receive the benefit of a trained professional.
In the case of recruiting, we have the TOOLS, SYSTEMS, PROCESSES, EXPERTISE, and CANDIDATE RELATIONSHIPS in place to provide a SUPERIOR and SEAMLESS experience in finding the right professional for the position.. Why to wade through 100's of resumes, many of which are not qualified. We will send only targeted and qualified, resumes. handle all scheduling and negotiations.
We have numerous passive and exclusive candidates that we represent.
In the case of a Temporary position, all screening, payrolling, and payroll and timesheet management are handled by us.
Every search, recruiting, and staffing firm claims to be different. We don't claim to be different, we demonstrate our difference every step of the way.
One of the biggest differences between us and other firms is our level of commitment to communicate with our clients and candidates. Our communication tools enable us to communicate with clients and candidates throughout the process. Guaranteed.
The online ACG Client resume portal provides our clients with access to all submitted resumes, with status updates and notes and communication capabilities.
We request references from every candidate we submit, at the beginning of the process.
We encourage feedback, good, bad, or indifferent from candidates and clients via a review tool. When we do a good job, we want to know. In the unlikely event that we don't, we really want to know.
Every position is handled in complete confidentiality. Our client's name is not divulged until there is an interest in scheduling an interview.
A candidate's resume is never submitted without a full discussion about the position, responsibilities, and requirements. While we o not identify the name of the client, we do provide a thumbnail sketch.
Our job and relationship do not end with an offer and acceptance. We perform check-ins.
"Greg first reached out to me on LinkedIn about recruiting services. At the time we were all set but by the time he reached out to remind me, we were needing a position filled as quickly as possible. Greg and his team provided quality applicants and we were able to fill the position with a great fit. I am so pleased with how well this whole process went. Greg is a blast to work with and I will definitely be calling him in the future for any of our openings in specialized positions."
"I would have never found this opportunity on my own. You found me at the right time in my search, and I will always appreciate your efforts. I sincerely appreciate your quick responses to my many inquiries, your tireless efforts to assist with fact-finding, and your overall exceptional professional attitude. I hope to have the opportunity to reach out to you to help ME hire someone in the future."
"It is going to be 30 years that I have known Len, of which the first fifteen years he was just a voice over the phone. Len basically was the extension to our Human Resource Department providing the bank with the ability to fill positions rapidly and with the right talent. He is very professional, has a great personality, goes out of his way to make sure the client is happy, well connected, and is an expert in his field. Len is a very good friend and I highly recommend his firm in helping any company fulfill their Human Resource needs."

-
"I have engaged Len Adams on many high-level executive search assignments as well as middle level managerial and technical positions. He not only grasps the skills, knowledge, and experience levels to fill a need he understands the attitudes, habits, and work ethic required for the right fit. I found him to be a superb HR advisor with an instinct for zeroing in on the essentials of organizational needs. I highly recommend him and his firm to anyone with immediate staffing needs or in need of a consult on how to staff for growth."

-
"I have used Len's recruiting services on several occasions. I found him well connected in the financial industry and very efficient. Len uses his expertise to achieve a perfect match between employers and prospective candidates. Len's long experience is a very valuable asset for compensation negotiations. I recommend Len very highly."
"Len Adams is an accomplished entrepreneur and business leader. As a client of his, he has consistently demonstrated his ability to work well with colleagues and clients. Len is a person of high integrity and values demonstrated in the quality service provided to his clients."
"Gregory is one of the brightest, innovative, and top-notch providers for his clients... He becomes more brilliant each day! He is, by nature, a professional who is eager - and more than a capable manager whose credo is to help others to find solutions to problems in record time. Sizes up a need and finds the answer. Real professional, a gentleman - and top-notch in his field. First-class in everything he does - and is!"
"Len is a detailed, consistent, and successful entrepreneur who has built his business over the years on the basis of excellent customer service, adaptability, and delivery. He conveys honesty, voracity, and transparency, qualities which are not so readily apparent in any business. I consider him a good friend and, perhaps more importantly, a rare professional who views you as a person."
"Len is one of my favorite clients. He has architected an amazing automation engine and is a pleasure to work with. He combines a unique set of characteristics that I seldom see together - Old school recruiting knowledge, work ethic, communication skills, and hustle with a thirst for innovation and technology. Typically those two sets of characteristics are mutually exclusive but Len has the rare gift to combine them together. He has incorporated an impressive tech stack and I think if anyone wants to know or emulate where great recruiting is headed in the future...stay close to Len Adams."